{"title":"Monument aux Patriotes | Art Public Montr\u00e9al","thisUrl":"https:\/\/artpublicmontreal.ca\/en\/oeuvre\/monument-aux-patriotes\/","body_class":"apm_artwork-template-default single single-apm_artwork postid-49901 apm lang-en apm-imported-item apm-full-js nav-env-filters","query_hud":null,"active_filter":null,"alternate_language_url":"https:\/\/artpublicmontreal.ca\/oeuvre\/monument-aux-patriotes\/","clear_filter_collection":0,"clear_filter_tour":"clear","data_attributes":{"data-view-type":"apm_artwork"},"filter_root_url":"\/collection\/","artworkNav":false,"mapMarkers":[{"id":49901,"slug":"monument-aux-patriotes","title":"Monument aux Patriotes","permalink":"https:\/\/artpublicmontreal.ca\/en\/oeuvre\/monument-aux-patriotes\/","year":"1926","loc":{"lat":"45.523411","long":"-73.546212"},"artist_names":"<span>Alfred<\/span> <strong>Lalibert\u00e9<\/strong>","thumb":"https:\/\/artpublicmontreal.ca\/wp-content\/uploads\/imported\/1692_4576-150x150.jpg","infoBox":false,"cat_color":"#e50f09","env":"outdoor","singleArtwork":true}]}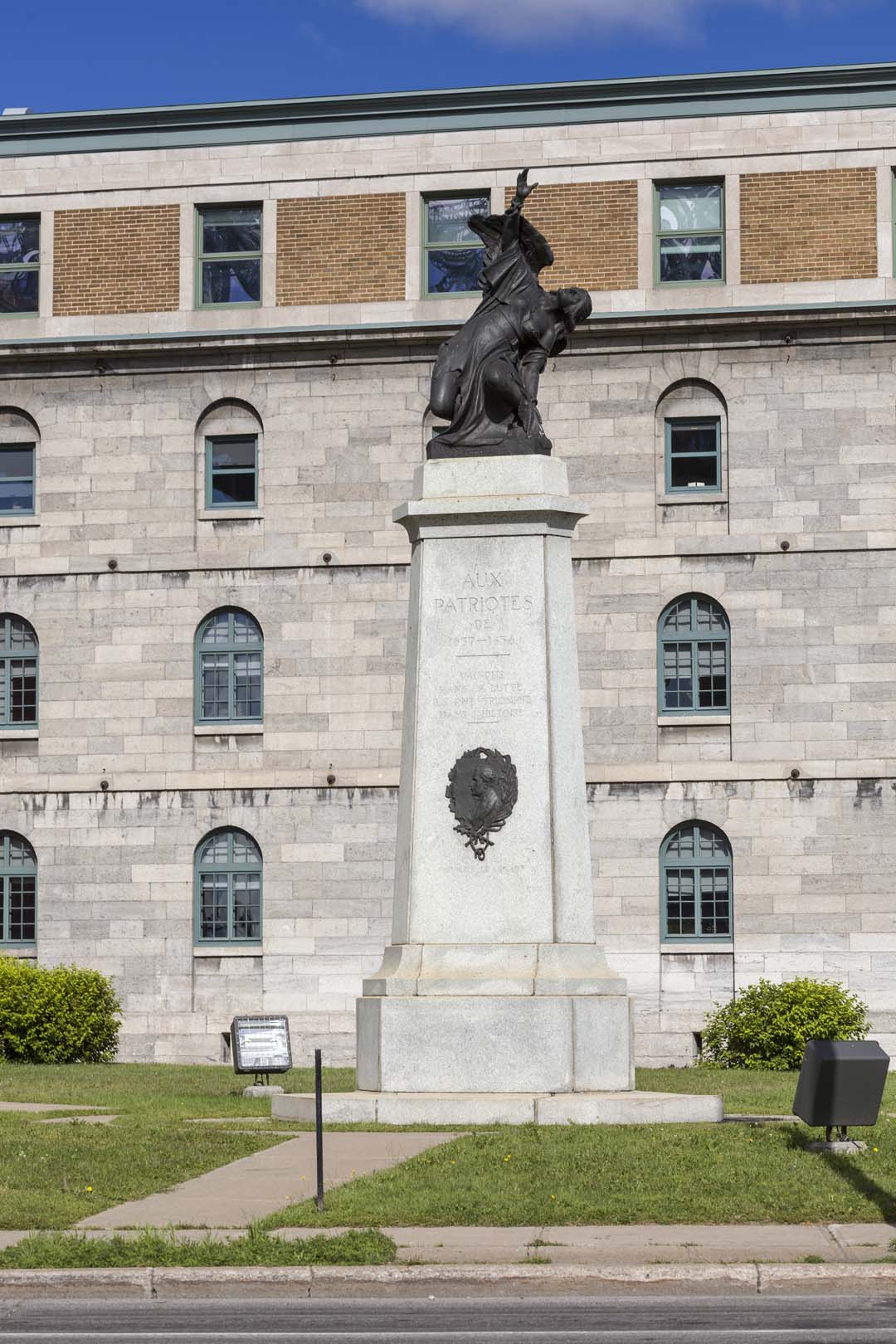 Crédit photo: Guy L'Heureux, 2013
Monument aux Patriotes
1926
1878 - 1953
Born in 1878 in Sainte-Élizabeth-de-Warwick, in the Bois-Francs region, Alfred Laliberté received training at the Conseil des arts et manufactures in Montréal; when he was 23, he went to study at the prestigious École des beaux-arts de Paris. He returned to Canada in 1907 and became a professor at the École des beaux-arts de Montréal in 1922.
A prolific artist, Laliberté produced more than 920 sculptures. Some were portrayals of important historical figures, including statues of Father Brébeuf and Father Marquette in Québec City, whereas others evoked rural traditions and legends, such as the series of bronzes commissioned by the Québec government in 1928. Laliberté was long regarded as Québec's "national sculptor".
Read more
Details
Acquisition mode
Donation by public subscription
Overall size
850 x 410 x 370 cm
Location

Location
Location
Place des Patriotes
Artwork description
This monument is dedicated to the 12 Patriotes who died by hanging at the Pied-du-Courant prison in the winter of 1838–39, whose names are displayed on the faces of the pedestal: Joseph-Narcisse Cardinal, Amable Daunais, François-Marie-Thomas Chevalier de Lorimier, Pierre-Théophile Decoigne, Joseph Duquette, François-Xavier Hamelin, Charles Hindelang, Pierre-Rémi Narbonne, François Nicolas, Joseph-Jacques Robert, Ambroise Sanguinet, and Charles Sanguinet.
In the 1990s, the monument was moved to the corner of Rue Notre-Dame and Avenue De Lorimier, which corresponds approximately to the site where the Patriotes were hanged. The monument grouping is built in a pyramidal mode: a triangular pedestal terminates in the point formed by the extended hand of an allegorical kneeling figure. This is Liberty with Broken Wings, represented, as tradition dictates, by a female figure brandishing a broken chain. She is both an allegory for failure and a symbol of the glory and moral victory of the vanquished. Her tattered dress bespeaks the violence of combat; her kneeling position, defeat. The lifted right arm and the broken chain remind us that this combat was not in vain and that the Patriotes' rebellion merits its place in history as it led to French Canadians' gaining constitutional freedoms. On each face of the pedestal is a medallion-shaped bronze bas-relief bearing the likeness of three Patriotes: Chevalier de Lorimier, de Louis-Joseph Papineau, and Wolfred Nelson.