{"title":"Circuit de Bachelard | Art Public Montr\u00e9al","thisUrl":"https:\/\/artpublicmontreal.ca\/en\/oeuvre\/circuit-de-bachelard-en\/","body_class":"apm_artwork-template-default single single-apm_artwork postid-57043 apm lang-en apm-full-js nav-env-filters","query_hud":null,"active_filter":null,"alternate_language_url":"https:\/\/artpublicmontreal.ca\/oeuvre\/circuit-de-bachelard-2\/","clear_filter_collection":0,"clear_filter_tour":"clear","data_attributes":{"data-view-type":"apm_artwork"},"filter_root_url":"\/collection\/","artworkNav":false,"mapMarkers":[{"id":57043,"slug":"circuit-de-bachelard-en","title":"Circuit de Bachelard","permalink":"https:\/\/artpublicmontreal.ca\/en\/oeuvre\/circuit-de-bachelard-en\/","year":"2014","loc":{"lat":"45.49498816554958","long":"-73.56302618980408"},"artist_names":"<span>Jean<\/span> <strong>Dubois<\/strong>, <span>Ghyslain<\/span> <strong>Gagnon<\/strong>","thumb":"https:\/\/artpublicmontreal.ca\/wp-content\/uploads\/2016\/03\/Circuit-Bachelard_Bleu-150x150.jpg","infoBox":false,"cat_color":"#e50f09","env":"indoor","singleArtwork":true}]}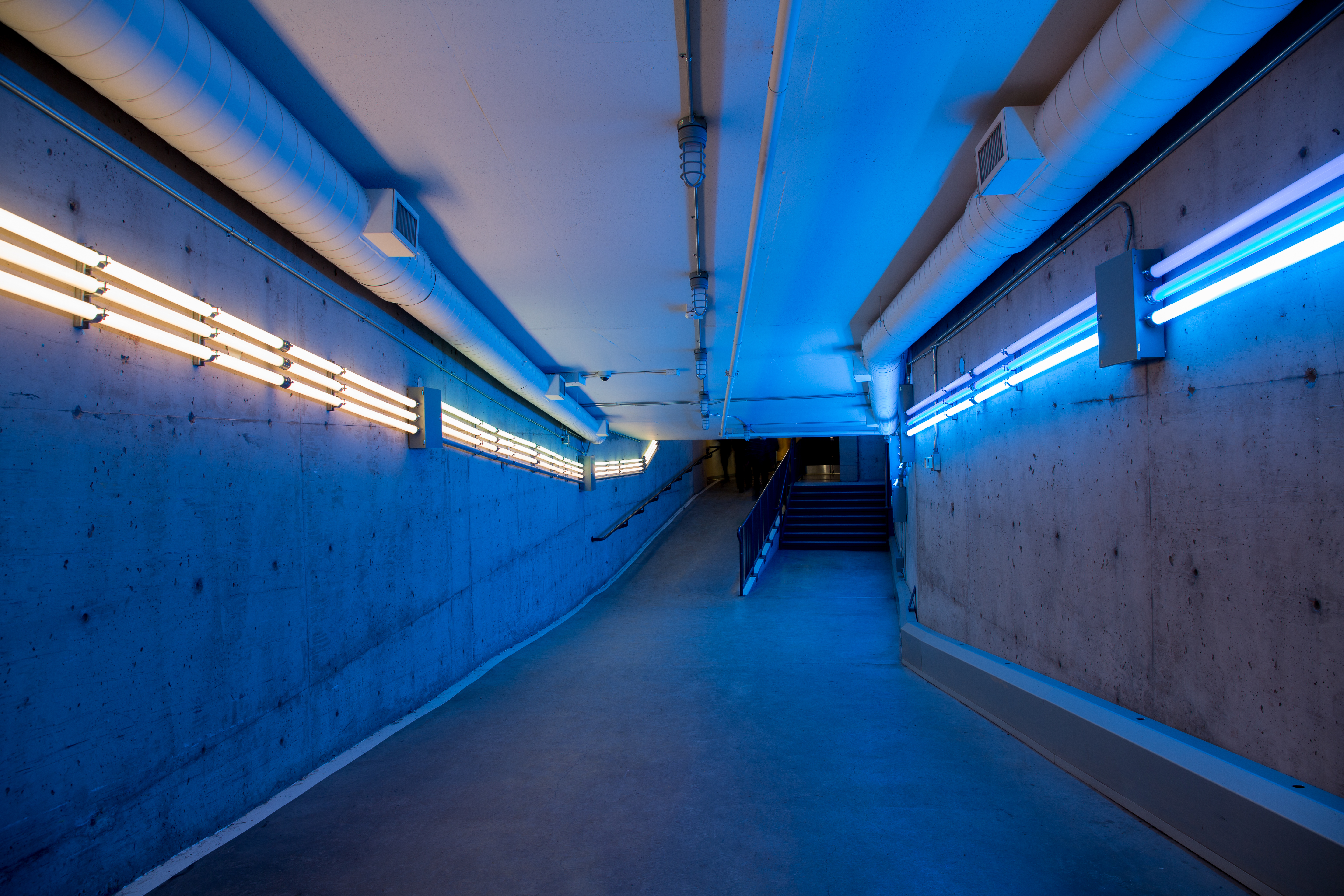 © Jean Dubois / Ghyslain Gagnon (2020) -
Crédit photo :
Circuit de Bachelard
2014
Jean Dubois has a particular interest in media installations and in the unintended use of new technologies. He often works with partners from very disparate backgrounds, ranging from electrical engineering, design, humanities and architecture, and going all the way to film.  His works have been featured in several international events and renowned organizations in Canada and in the United States, in Brazil, France, Germany, Russia, Australia, China, and South Korea.
He is a professor at UQAM's École des arts visuels et médiatiques, and is currently Vice-Dean, Research and Creation at the Faculty of Arts. He is one of the founding members of the Centre interuniversitaire des arts médiatiques Hexagram, and previously served as chairman of the board of directors of the Centre de l'image contemporaine Vox.
Read more
Professor Ghyslain Gagnon, who teaches Electrical engineering at École de technologie supérieure (ÉTS), is interested in microelectronics, in wireless communications, and in signal processing. His strong interest in technological arts culminated in a collaboration with Jean Dubois in designing the Circuit de Bachelard; the two also collaborated in another interactive work presented during the Biennale de Montréal in 2011.
He has participated in many research projects through industrial partnerships in the area of movement analysis, radio signal positioning and electric energy consumption measurement systems.
Ghyslain Gagnon is currently the director of the ÉTS Telecommunications and Microelectronics Integration Laboratory.
Circuit de Bachelard was also created in collaboration with urban designer Katherine Ste-Marie, students Sébastien Rompré and Jean-Philippe Côté, ÉTS, and Sébastien Langevin, Information Officer, ÉTS
Read more
Details
Category
Installation, Multimedia Work
Acquisition mode
Commission from the artist
Materials
acrylic tube, light-emitting diode (LED), steel hardware
Overall size
Length: 141 m on each of the two walls of the tunnel
Location

Location
Location
École de technologie supérieure
Localization
Tunnel linking the two main ÉTS pavilions - Ground floor
Adress
1100 Notre-Dame Street West, Montreal QC H3C 1K3
Artwork description
Interactive light- and sound-activated installation comprised of common electrotechnical materials transforming a concrete tunnel into a work of art. Its title refers to the journey of philosopher Gaston Bachelard (1884-1962), who was able to blend reason and imagination in his cutting-edge ideas.
Luminous fluxes speed up whenever a passer-by whispers into a mike. Position sensors which modify lighting could be added, as well as smart phone applications; additionally, new lighting effects could also be created, etc.