{"title":"Ellen Gabriel & Mary Two Axe Earley, Tiohti\u00e0 :ke Unceded Haudenosaunee Territory | Art Public Montr\u00e9al","thisUrl":"https:\/\/artpublicmontreal.ca\/en\/oeuvre\/ellen-gabriel-mary-two-axe-earley-tiohtia-ke-unceded-haudenosaunee-territory\/","body_class":"apm_artwork-template-default single single-apm_artwork postid-64744 apm lang-en apm-full-js nav-env-filters","query_hud":null,"active_filter":null,"alternate_language_url":"https:\/\/artpublicmontreal.ca\/oeuvre\/ellen-gabriel-mary-two-axe-earley-tiohtia-ke-unceded-haudenosaunee-territory\/","clear_filter_collection":0,"clear_filter_tour":"clear","data_attributes":{"data-view-type":"apm_artwork"},"filter_root_url":"\/collection\/","artworkNav":false,"mapMarkers":[{"id":64744,"slug":"ellen-gabriel-mary-two-axe-earley-tiohtia-ke-unceded-haudenosaunee-territory","title":"Ellen Gabriel & Mary Two Axe Earley, Tiohti\u00e0 :ke Unceded Haudenosaunee Territory","permalink":"https:\/\/artpublicmontreal.ca\/en\/oeuvre\/ellen-gabriel-mary-two-axe-earley-tiohtia-ke-unceded-haudenosaunee-territory\/","year":"2017","loc":{"lat":"45.47547214553903","long":"-73.59299538773155"},"artist_names":"<span>Shanna<\/span> <strong>Strauss<\/strong>","thumb":"https:\/\/artpublicmontreal.ca\/wp-content\/uploads\/2017\/11\/Strauss_2017-2-150x150.jpg","infoBox":false,"cat_color":"#e50f09","env":"outdoor","singleArtwork":true}]}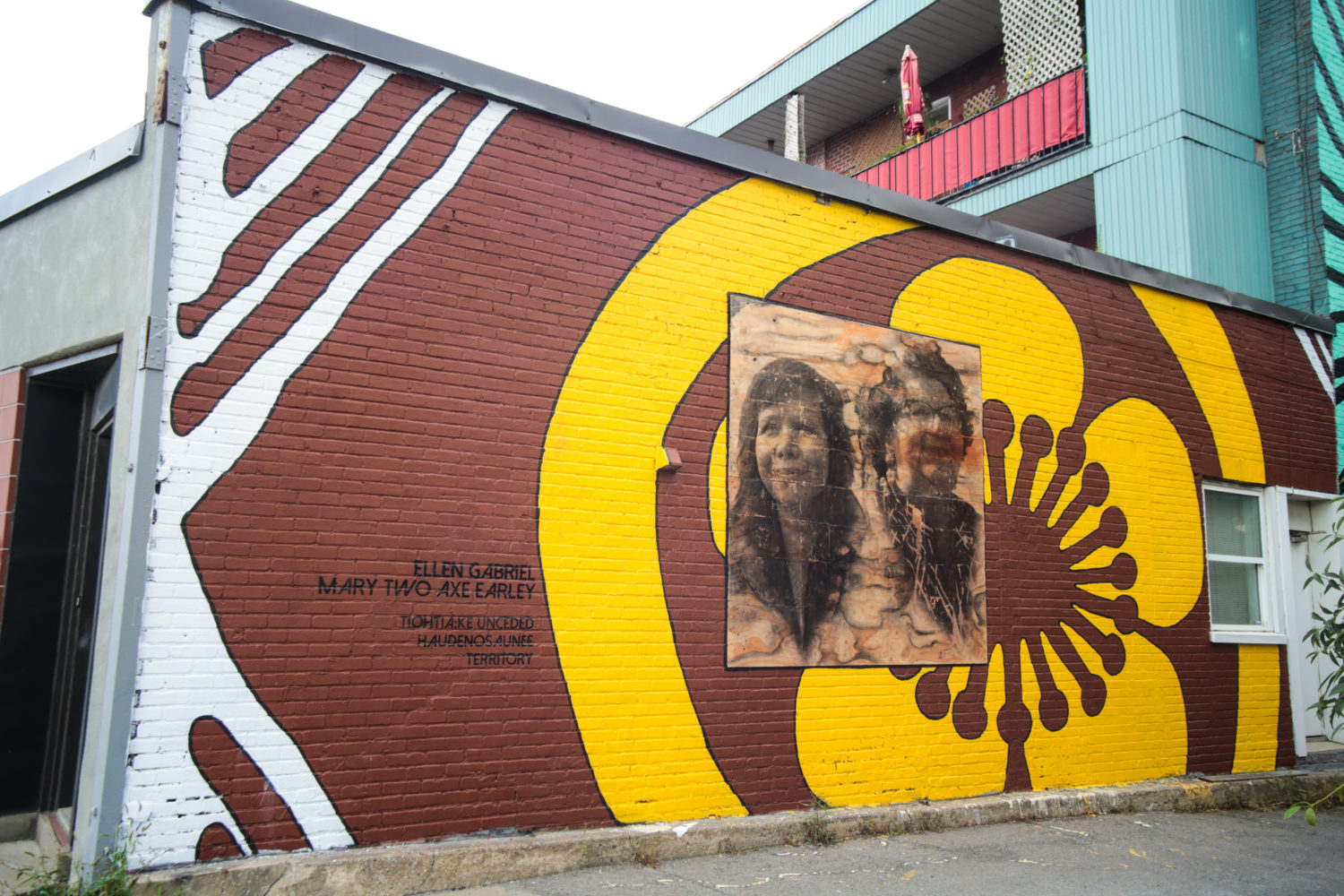 © Shanna Strauss -
Crédit photo : Cecile Lopes, 2017
Ellen Gabriel & Mary Two Axe Earley, Tiohtià :ke Unceded Haudenosaunee Territory
2017
Shanna Strauss is a Tanzanian-American artist currently living in Montreal. She completed a Bachelor of Fine Arts degree at the California College of Arts in 2003, and has exhibited her work in solo and group shows in Tanzania, the United States and Canada. Noteworthy achievements include her art being featured in the East African Biennale in 2009, a solo exhibition The Floating Homeland that opened the Vue D'Afrique 2015 Rally Expo Festival in Montreal, and a collaborative project and exhibition Re-membering: A sister Project that took place in Oakland, California in the summer of 2015. More recently, she was commissioned to create work for the Égéries Noires group exhibition at Montreal's Place des Arts, in February 2016. She is currently working on an ongoing art project, with another Montreal based artist, Kevin Calixte, called Changemakers.
In conjunction with her art practice, Shanna has engaged in community work and organizing for the past 10 years, working with diverse youth groups in different countries. In 2014, she completed a Master of Social Work degree at McGill University with a focus on International and Community Development. Integrating arts-based programs and interventions in her community work, Shanna believes passionately in the power of art to create individual, community and social change.
Read more
Details
Technique(s)
image transfer, painted
Mediums
acrylic, spray paint
Location

Location
Location
Parc des Hommes-Forts
Adress
4604, rue Saint-Antoine Ouest, Montréal, QC H4C 1E1
Artwork description
This mural is a tribute to two activists Mohawk women, Ellen Gabriel and Mary Two Axe Earley, who are represented in the middle of the mural, on a wood panel. Their portraits are made with a specific wood transfert technique. With this artwork, Shanna Strauss show her solidarity with the Indigenous women who are from this territory (Tiohtià:ke, unceded Haudenosaunee territory, also known as Montreal) who are resisting against colonial violence and fight for the recognition of the Indigenous women rights. For the painted part of the mural, Shanna used a motif from a floral fabric called Kitenge, a traditional Tanzanian fabric that women use for clothes. Shanna made a call for participation to black women in her community to help her paint the mural.