{"title":"R\u00e9action en cha\u00eene | Art Public Montr\u00e9al","thisUrl":"https:\/\/artpublicmontreal.ca\/en\/oeuvre\/reaction-en-chaine\/","body_class":"apm_artwork-template-default single single-apm_artwork postid-71023 apm lang-en apm-full-js nav-env-filters","query_hud":null,"active_filter":null,"alternate_language_url":"https:\/\/artpublicmontreal.ca","clear_filter_collection":0,"clear_filter_tour":"clear","data_attributes":{"data-view-type":"apm_artwork"},"filter_root_url":"\/collection\/","artworkNav":false,"mapMarkers":[{"id":71023,"slug":"reaction-en-chaine","title":"R\u00e9action en cha\u00eene","permalink":"https:\/\/artpublicmontreal.ca\/en\/oeuvre\/reaction-en-chaine\/","year":"2019","loc":{"lat":45.4929776000000032354364520870149135589599609375,"long":-73.560209700000001475928002037107944488525390625},"artist_names":"<span>Ludovic<\/span> <strong>Boney<\/strong>","thumb":"https:\/\/artpublicmontreal.ca\/wp-content\/uploads\/2021\/09\/ETS-Ludovic-Boney-12-150x150.jpg","infoBox":false,"cat_color":"#e50f09","env":"outdoor","singleArtwork":true}]}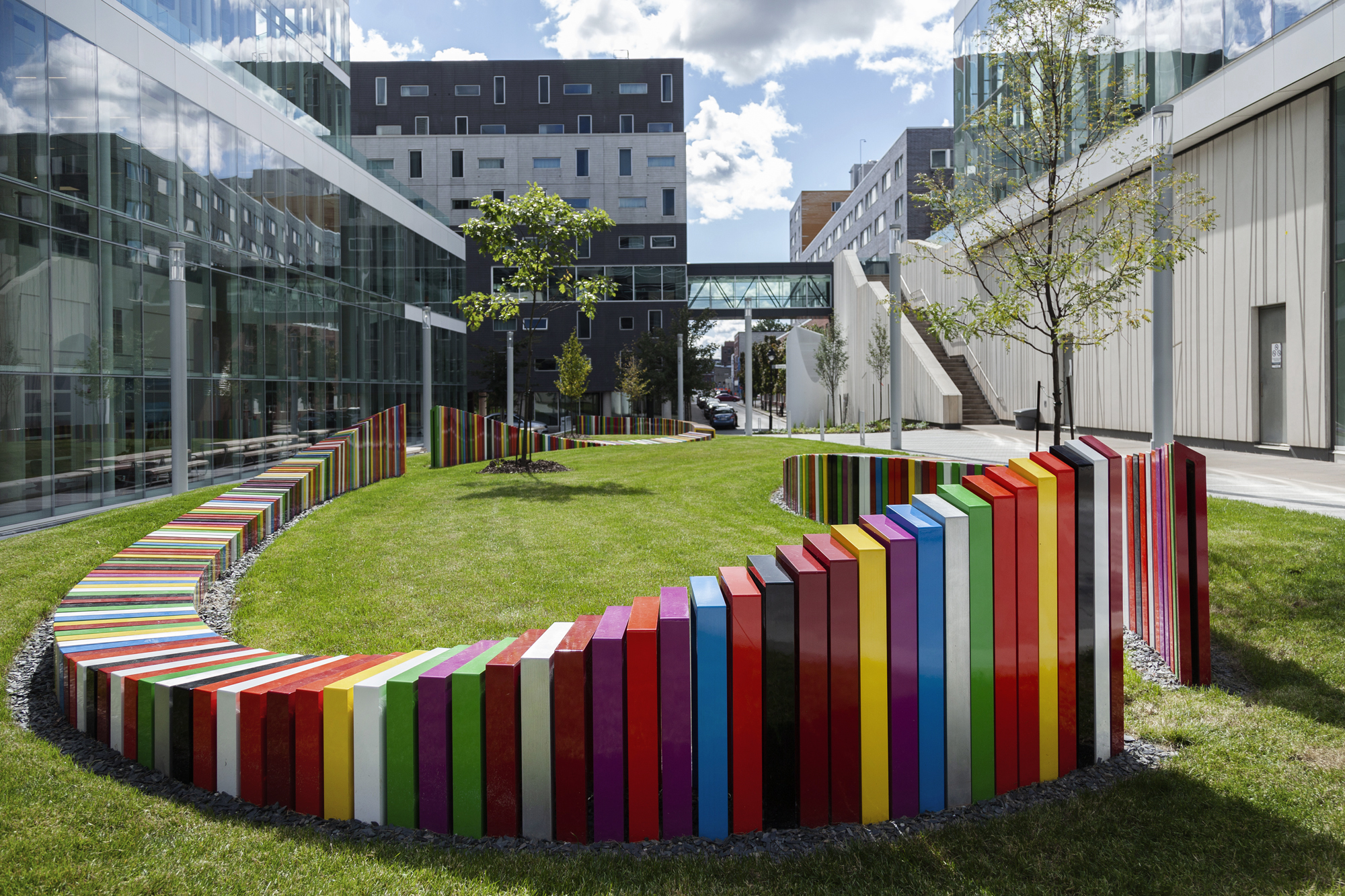 Ludovic Boney -
Crédit photo : ©CFO, 2020
Réaction en chaîne
2019
Born June 30, 1981 in Wendake, a Huron village near Québec City, Ludovic Boney was raised and educated in the Provincial capital.
After completing his studies in Sculpture in 2002 at the Maison des métiers d'art de Québec, he cofounded an artistic workshop and production cooperative (Bloc 5), where he produced his first public art projects, both in his own name and in cooperation with numerous other artists (printers, pointers, photographers, architects and sculptors). He also teaches Sculpture at the Maison des métiers d'art de Québec in Québec City.
Based in Lévis, Ludovic Boney works on large-scale public art projects. His portfolio includes twenty or so public art works that can be viewed at the Musée National des Beaux-Arts du Québec, the Amphithéâtre de Trois-Rivières and the Percé Geopark, among other locations. He regularly presents his work in art galleries and artist centres.
He was among the Sobey Art Award long-listed artists in 2017, and has received a grant from the Conseil des arts et lettres du Québec, along with the REVEAL Indigenous Art Award from the Hnatyshyn foundation.
Ludovic Boney is currently represented by Galerie Michel Guimont in Québec City.
Read more
Details
Alternative title
Chain reaction
Category
Installation, Sculpture
Acquisition mode
Politique d'intégration des arts à l'architecture et à l'environnement, Government of Quebec
Overall size
556 arches of 5 cm x 10 cm,
Location

Location
Location
École de technologie supérieure
Localization
Park located between two buildings of the École de technologie supérieure, Murray street
Adress
Murray street between streets Notre-Dame Ouest and William
Accessibility
At all time
Artwork description
Erected on the campus of an engineering school, Réaction en chaîne (Chain reaction) meanders over a distance of 55 metres and stands as the focal point of the landscaping. Resembling a cascade of dominos, the piece reflects the precision of engineering mechanisms, the meticulousness of the scientific method and the logic of repeating sequences.