{"title":"Osmose | Art Public Montr\u00e9al","thisUrl":"https:\/\/artpublicmontreal.ca\/en\/oeuvre\/osmose\/","body_class":"apm_artwork-template-default single single-apm_artwork postid-54841 apm lang-en apm-full-js nav-env-filters","query_hud":null,"active_filter":null,"alternate_language_url":"https:\/\/artpublicmontreal.ca\/oeuvre\/osmose\/","clear_filter_collection":0,"clear_filter_tour":"clear","data_attributes":{"data-view-type":"apm_artwork"},"filter_root_url":"\/collection\/","artworkNav":false,"mapMarkers":[{"id":54841,"slug":"osmose","title":"Osmose","permalink":"https:\/\/artpublicmontreal.ca\/en\/oeuvre\/osmose\/","year":"2007","loc":{"lat":"45.50054938197513","long":"-73.61450582742691"},"artist_names":"<span>Yechel<\/span> <strong>Gagnon<\/strong>","thumb":"https:\/\/artpublicmontreal.ca\/wp-content\/uploads\/2015\/09\/UdeM_Y\u00e9chel-GAGNON_1-150x150.jpg","infoBox":false,"cat_color":"#e50f09","env":"indoor","singleArtwork":true}]}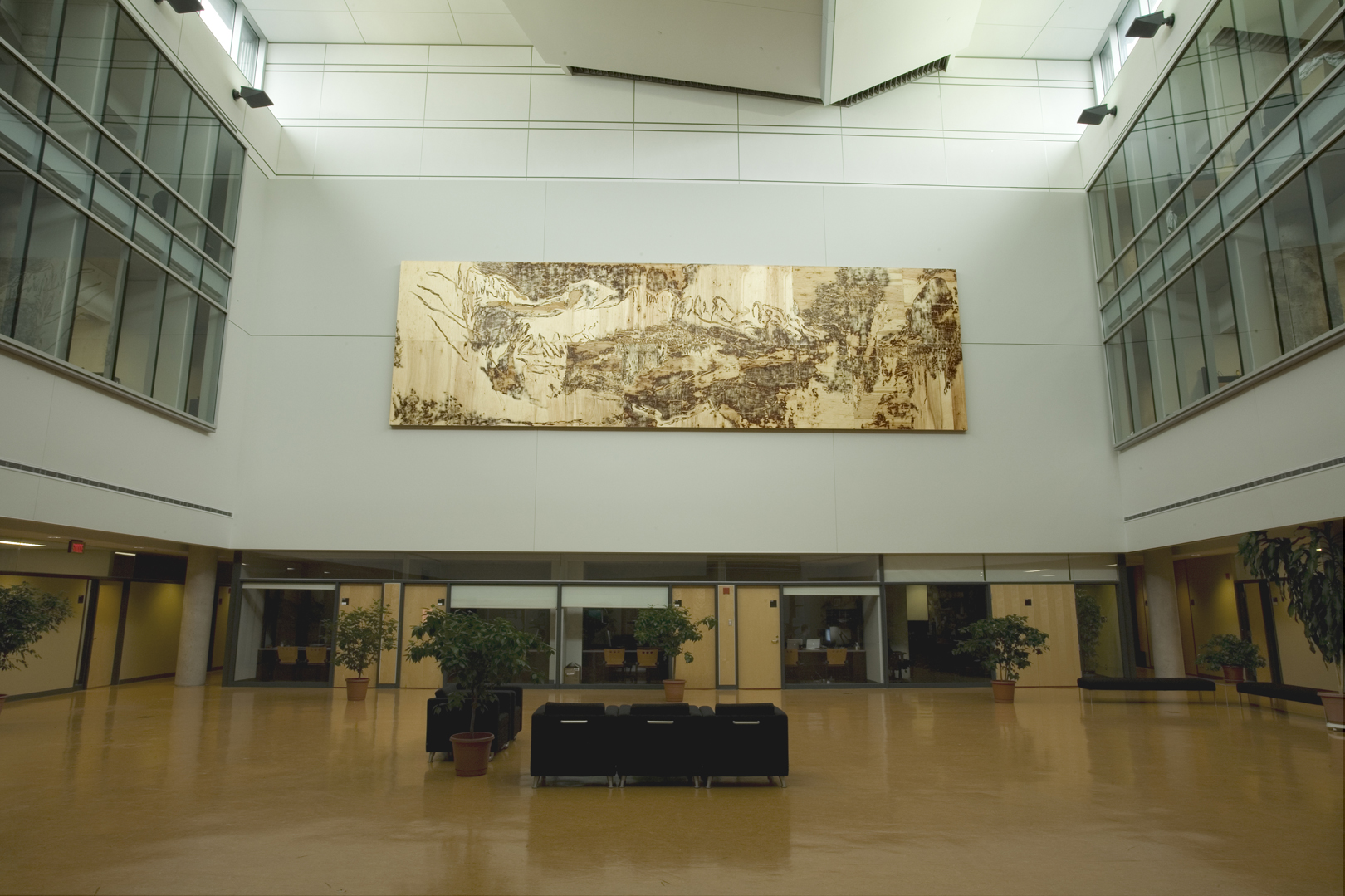 © Yechel Gagnon (2006) -
Crédit photo : Richard-Max Tremblay (2015)
Osmose
2007
Yechel Gagnon was born in Longueil (Quebec) in 1973. She began her studies at the Ontario College of Art and Design in Toronto, then received a Master's degree in visual arts at Concordia University in Montreal in 2000. Since 1996, she has participated in many collective exhibitions as well as doing solo exhibitions in Quebec, Ontario and France. The quality of her work was awarded with scholarships and prizes. Her pieces currently lie in private and museum collections. Notably in the Nova Scotia Museum of Fine Arts, the Gotland Museum of Fine Arts (Sweden), the Osler Hoskins & Harcourt Collection in Toronto.
Osmose marks the artist's first participation in the Programme d'intégration des arts à l'architecture et à l'environnement. Yechel Gagnon then created Vortex in 2007 at Bishop University in Sherbrooke, Méridiens in Gatineau, Le courant de la mémoire in Ville de Sainte-Catherine in 2009, and Entre ciel et terre, Entre brume et nuage in 2010 for the Collège Jean-de-Brébeuf in Montréal.
In 1996, while studying in Ontario, Gagnon discovered the infinite qualities that plywood's stratifications had to offer. She also discovered Paterson Ewen's artwork that same year at the Ontario Museum of Fine Arts.
Though she mostly sculpts with plywood, Gagnon also uses other techniques such as drawing, engraving and installation. In her artistic work, she explores the tension between what is natural and artificial. Her pieces are often very spacious and evoke timeless moments of introspection and getting in touch with nature.
Read more
Details
Acquisition mode
Politique d'intégration des arts à l'architecture et à l'environnement, Government of Quebec
Overall size
3,66 x 12,2 m
Technique(s)
engraved, sculpted, varnished
Location

Location
Location
Jean-Coutu Pavilion, Université de Montréal
Localization
Atrium, 2nd floor
Adress
2940, Chemin de la polytechnique, Montréal, QC H3T 1J4
Accessibility
Monday to friday
Artwork description
By finely engraving immense pieces of plywood, the artist invests herself in showing us everything from the colossal to the microscopic. Yechel digs into her favorite material with wood cutting scissors, sanding machines, gouges and wood shapers to create motifs. She allows herself to not only be guided by the wood's grain and strata, but also by its knots and holes that can modify her original sketch.
Here in the atrium, the warmth of the wood's different tints, its natural aspect and organic shapes allow the viewer a return to his or her roots. The piece does not intrude in the room, but rather blends with the environment: this mural and the site blend harmoniously.
When she engraves much smaller plywood bas-reliefs, Gagnon allows the image to flourish bit by bit over her work. However the 20 129 x 195 cm pieces that compose Osmose forced her to modify her approach. It was necessary to make multiple sketches, photomontages and models to determine the steps she would take for her creation. About twenty photomontages also allowed her to gain a general view during the different steps of her creation. It was with the help of scaffolding that the artist could visualize the piece as a whole when she saw how the pieces were arranged on the floor.
The use of wood and particularly plywood is vital for symbiosis with architecture according to the artist. This allowed her to accentuate the natural – living – elements used in architecture as a punctuation in spaces made of more industrial materials such as concrete and glass.
While visiting the building, the artist says "she was struck by a micro to macro twofold sensation while exiting the narrow corridor and gaining access to the atrium's monumental volume. […] The wall on which hangs Osmose imposes itself by its sheer size and the different points of view from which a viewer can contemplate. The horizontal aspect of the pieces echoes on the walls which are sectioned by windows which circle the atrium, giving the spectator a 360 degree view and inviting him to pivot around him or herself and contemplate the entire area, including the ceiling's architectural elements that evoke somewhat of a true sculpture." [Loose translation]