{"title":"Micro paysages | Art Public Montr\u00e9al","thisUrl":"https:\/\/artpublicmontreal.ca\/en\/oeuvre\/55264\/","body_class":"apm_artwork-template-default single single-apm_artwork postid-55264 apm lang-en apm-full-js nav-env-filters","query_hud":null,"active_filter":null,"alternate_language_url":"https:\/\/artpublicmontreal.ca\/oeuvre\/micropaysages\/","clear_filter_collection":0,"clear_filter_tour":"clear","data_attributes":{"data-view-type":"apm_artwork"},"filter_root_url":"\/collection\/","artworkNav":false,"mapMarkers":[{"id":55264,"slug":"55264","title":"Micro paysages","permalink":"https:\/\/artpublicmontreal.ca\/en\/oeuvre\/55264\/","year":"2006","loc":{"lat":"45.500515542562496","long":"-73.61524879932404"},"artist_names":"<span>Jean<\/span> <strong>Lantier<\/strong>","thumb":"https:\/\/artpublicmontreal.ca\/wp-content\/uploads\/2015\/09\/UdeM_LANTIER_1-150x150.jpg","infoBox":false,"cat_color":"#e50f09","env":"outdoor","singleArtwork":true}]}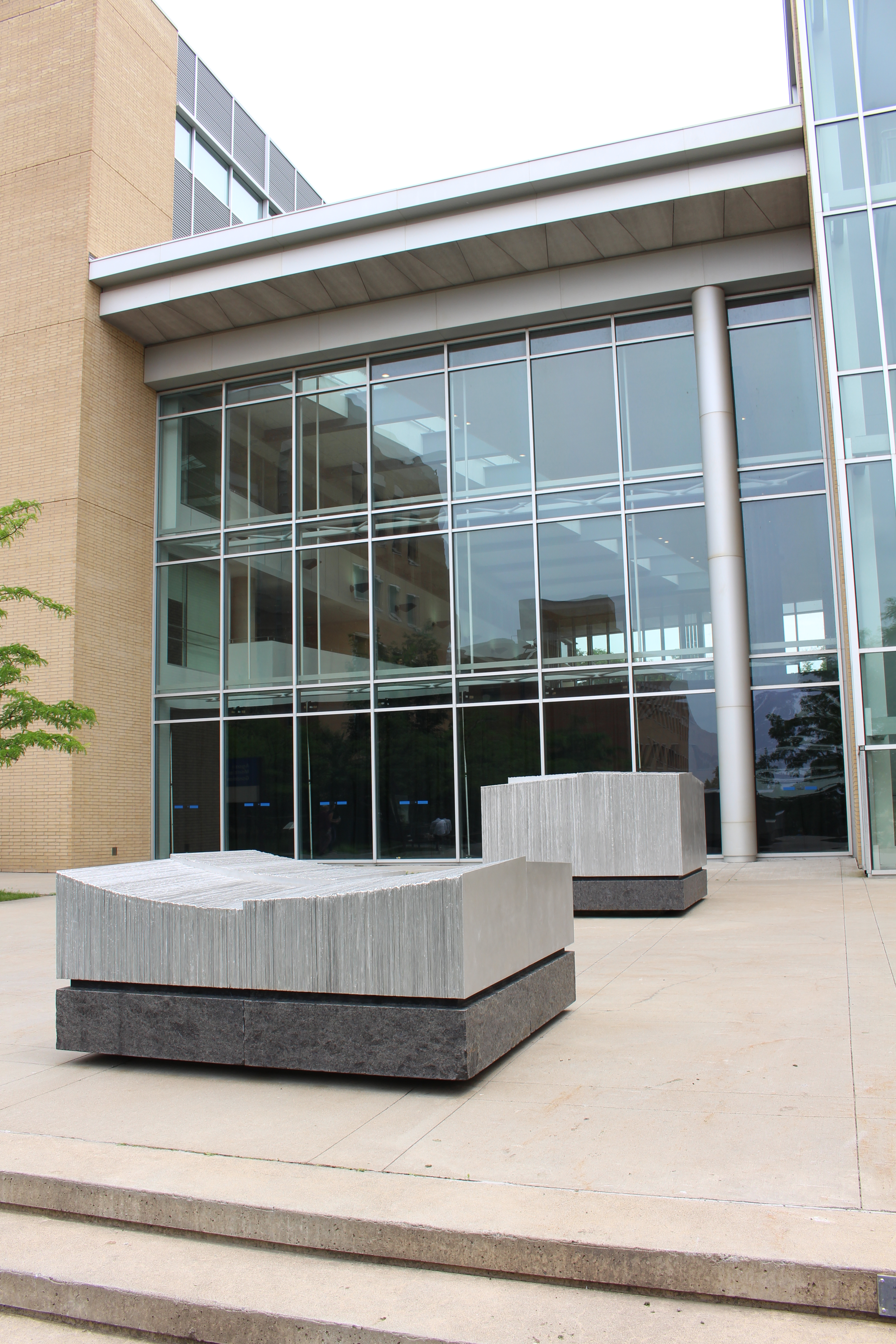 © Jean Lantier (2006) -
Crédit photo : Patrick Mailloux (2015)
Micro paysages
2006
Jean Lantier was born in 1953 in Quebec City. He graduated from the École des arts visuels at Université Laval in 1976. He combined painting, sculpture and prints to create pieces adhering to the installation art current. He was awarded several scholarships and studied in Paris and New York. His career essentially developed in Quebec. His pieces are showcased in solo and collective exhibitions, as well as Quebec museum collections.
Jean Lantier develops upon ambiguity, juxtapositions, contrasts and the complementary aspect of elements in a given space. He pays particular attention to various textures which can be smooth, ribbed, granulative or chiseled. These textures provide color to the sober-shaped sculptures, created following a minimalistic approach.
The individual sculptures often present a range of autonomous fragmented or divided volumes which form an whole. The artist simultaneously plays on the regularity of shapes and volumes, but also on the variations, inversion and sheer delinquency of the elements' order in a defined space.
The materials and techniques vary from one piece to the other, but they always invite the observer to reflect upon the relation between physical and mental space. Lantier's art relates to contemplation; a form of intimacy is created even though his pieces are often very large, allowing the observer to discover their different subtleties.
Read more
Details
Alternative title
Micro paysages (en balance)
Acquisition mode
Politique d'intégration des arts à l'architecture et à l'environnement, Government of Quebec
Materials
aluminum, granite
Overall size
1st element : 104 x 215 x 215 cm. 2nd element : 156 x 215 x 215 cm
Technique(s)
assembled, glued, welded
Location

Location
Location
Jean-Coutu pavilion, Université de Montréal
Localization
Forecourt, garden level
Adress
2940, Chemin de la polytechnique, Montréal, QC H3T 1J4
Artwork description
Two slightly unaligned aluminum volumes with different heights and solid, like the surrounding rocks, float lightly above their granite bases. We can discover the subtlety behind these shapes by approaching the sculpture: slight inclinations between the sections – some surfaces are ribbed or grazed, others smooth. The aluminum sheets are assembled as boxes and lie on the stone base. Two of its barriers were engraved directly in the metal with a saw.
The clouds, the sun, the rain and the light continually reinvent the sculpture while it alters the decor by its reverberated reflections on the pavilion's facade. The artist created a piece that integrates itself to its surroundings by using materials that echo both architectural and natural environments. Lantier appreciates his piece's discreet relation with it's environment: the site welcomes passers by with its open view on the landscape and the mountain. For him, a public piece is a way to escape the world of galleries and museums, to meet the people and abolish preconceptions. The artist can create a public work of art that blends or contrasts with its environment. In this case, Lantier chose harmony.
It was the first time that one of Lantier's projects was selected within the Programme d'intégration des arts à l'architecture et à l'environnement. For this artist who was often said to have a stern approach to his work, this project matched his artistic approach perfectly, which is primordial for him. The sculpture evokes Lantier's interest for light and for pure, yet complex shapes.