{"title":"Machine \u00e0 fabriquer des nuages | Art Public Montr\u00e9al","thisUrl":"https:\/\/artpublicmontreal.ca\/en\/oeuvre\/machine-a-fabriquer-des-nuages\/","body_class":"apm_artwork-template-default single single-apm_artwork postid-54727 apm lang-en apm-full-js nav-env-filters","query_hud":null,"active_filter":null,"alternate_language_url":"https:\/\/artpublicmontreal.ca\/oeuvre\/machine-a-fabriquer-des-nuages\/","clear_filter_collection":0,"clear_filter_tour":"clear","data_attributes":{"data-view-type":"apm_artwork"},"filter_root_url":"\/collection\/","artworkNav":false,"mapMarkers":[{"id":54727,"slug":"machine-a-fabriquer-des-nuages","title":"Machine \u00e0 fabriquer des nuages","permalink":"https:\/\/artpublicmontreal.ca\/en\/oeuvre\/machine-a-fabriquer-des-nuages\/","year":"1972","loc":{"lat":"45.498363","long":"-73.6180827"},"artist_names":"<span>Reynald<\/span> <strong>Connolly<\/strong>","thumb":"https:\/\/artpublicmontreal.ca\/wp-content\/uploads\/2015\/09\/UdeM_Connolly_1-150x150.jpg","infoBox":false,"cat_color":"#e50f09","env":"indoor","singleArtwork":true}]}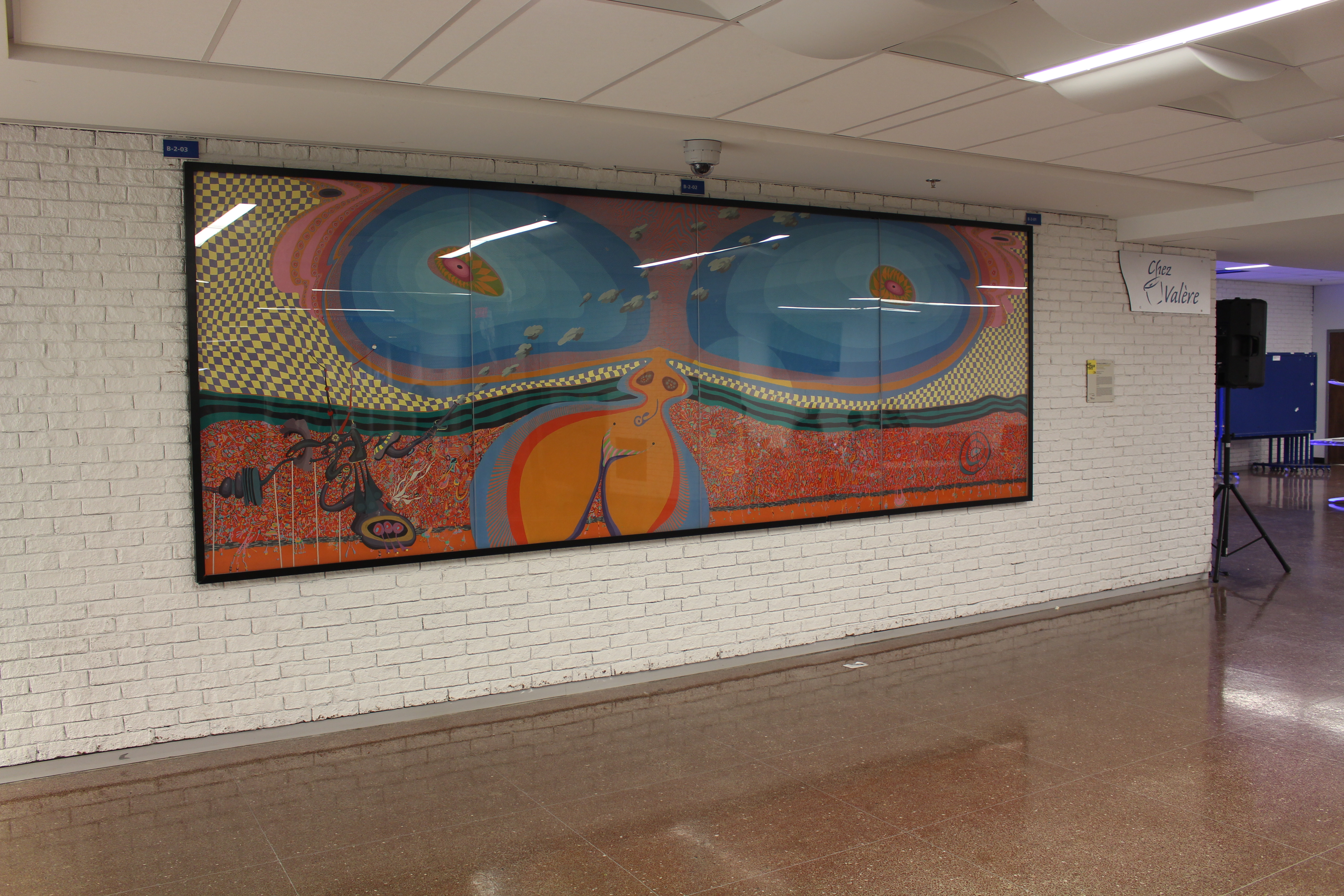 © Reynald Connolly (2015) -
Crédit photo :
Machine à fabriquer des nuages
1972
Reynald Connolly was born in Ville Lasalle (Quebec) in 1944. As a self-educated artist, he would build his path impulsively. He left his father's house at the age of 15 and learned the trade by visiting artists. He participated in live art happenings at the Clock Tower Piers with Serge Lemoyne by illustrating poems of Denis Vanier and Claude Péloquin. He particularly strayed far from traditional dogmas and schools. He learned by visiting artists and traveling to the United States. During the 60s and 70s, his pieces merge optical art and surrealism, where shapes become abstract.
As a talented and imaginative artist, Connolly mastered drawing, watercolors, engraving and painting. He also created cinema and theater posters. In the 80s, his creativity was inspired by figurative art, but always retaining an element of humor, often grinning or critical. This committed and non conformist drawer used shapes and allegory to witness the world in which he lives.
Throughout his career, Connolly was awarded several bursaries. As a prolific artist, he participated in nearly a hundred solo and group exhibitions. He also created many pieces of public art, notably for the Longueil courthouse, the Esso building, the Charles Des Baillets water treatment plant in Lasalle and the Valmar pharmaceutical plant in Saint-Jérôme. His pieces lie currently in private collections and museums. In 1995, the Musée d'art contemporain des Laurentides dedicated a retrospective exhibit to him and his work.
Since having his work showcased at the prestigious Galerie Gilles Corbeil at the beginning of his career, Connolly himself now manages the sale of his pieces and he doesn't hesitate to invest in marginal places such as the Inspecteur Épingle taverne to meet loyal collectors. This allows him to live of his art.
Read more
Details
Acquisition mode
Donation
Source mention
Donated by Groupe Varad inc.
Overall size
165 x 486 cm
Location

Location
Location
Jean-Brillant pavilion, Université de Montréal
Localization
2nd floor, at the cafeteria entrance
Adress
3200, rue Jean-Brillant, Montréal, QC H3T 1N8
Artwork description
In front of this amalgam of so many shapes and colors, the gaze do not know where to fix. At first glance, it is attracted by the oval shapes with a pink and orange-tainted center. Small colorful "organisms" form a surrealistic machine that fabricates clouds at the lower extremity of the painting. These clouds then disperse towards other blue shapes, white spotted and hemmed with pink and beige, in the upper side of the painting.
A female body appears in the center of the composition, wearing a fig leaf that resembles a fish tail. Undulating green and black stripes divide this large painting horizontally.
The top section of the piece contains Op art-style patterns formed by yellow and purple shapes, whereas the bottom section reveals the piece's more surrealist dimension as it is decorated with multi-colored calligraphy. This piece radiating of color, rhythm and fantasy is a testament to the artist's mastery in composition and integrating many sources of inspiration. The figuration meet the abstraction.
This painting is typical of Connolly's work throughout the 1960s and 70s, during which he explore Op Art while integrating an iconography close to comic book. His paintings from this period often depict microcosmic landscapes – a token of his affinity for the surrealism and of its innate talent with composition and colors. The artist also stands out amongst many because of his ability to created large scale paintings.